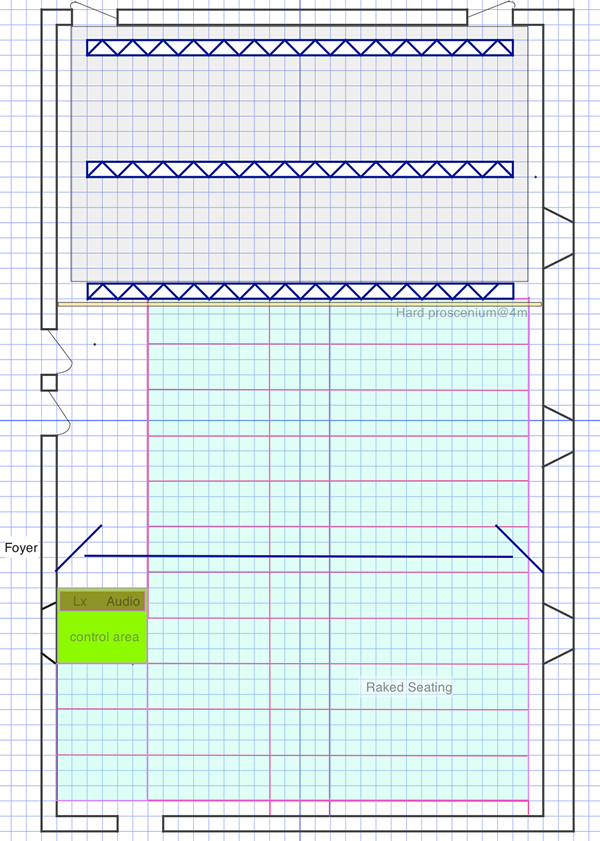 You can download a PDF version of this plan by clicking the link below.
Overview
The performance space at The Glens Centre is housed in the main area of a converted Methodist chapel. There is a retractable raked seating bank with a capacity of 130 persons. In order to create more stage depth, up to two rows of the retractable seating bank can be pulled back, adding 2 metres of stage, but losing 22 seats.
With the seats retracted, a café-style seating arrangement with tables and loose chairs can be created. This arrangement can accommodate up to 100 patrons including the fixed balcony seats.
The stage area is approximately 7.5 m wide by 3.5m deep. Three Lighting Trusses are suspended over the stage area at a height of 5m, and there are additional lighting positions in the form of a FOH bar and two FOH booms. Get-in access is limited to a standard single door located upstage-left of the stage. A sound and lighting control area is located audience-left in the  auditorium. For more detailed technical information, please consult our sound and lighting specifications.